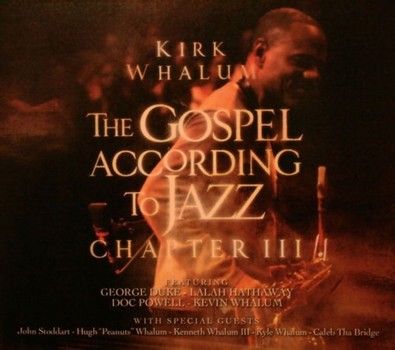 Cd 1:
01. Call to Worship
02. Fit to battle
03. Ananias & Sapphira
04. Introduction to rev
05. Rev
06. Because you love me
07. Make me a Believer
08. He's Baan Jast That Good
09. If you ever Need Me
Cd 2:
01. Africa Jesus Africa
02. You are Everything
03. Smile Medley (part 1) Smile
04. Smile Medley (part2) God has smiled on me
05. It's What i Do
06. The Thrill is gone (bonus)
07. Running away
08. You are Everything (bonus)
Kirk Whalum (Soprano saxophone, alto saxophone, tenor saxophone, spoken vocals); Jonathan Butler (Vocals, acoustic guitar); Rod McGaha (Trumpet); George Duke (Piano, keyboards); Tyrone Dickerson (Organ, keyboards, synthesizer); Paul Jackson Jr. (Acoustic & electric guitars); Michael manson (Acoustic & electric basses); Kyle Whalum (Electric bass); Sean McCurley (Drums); Luis Conte (Percussion); Tata Vega, Kevin Whalum, Kim Burrelll (Vocals); Alfie Silas-Durio, Lynn Linsey, Fred White (Background vocals); Choir (West Angeles Chruch Choir (director Logan Reynolds).
https://1fichier.com/?7zjcrvwj4d